1999 Rocky Mountain Rendezvous in
Ouray, Colorado: August 16 - 20
I could attend only the first couple of days of this fine rally !!!
Visit Rob Kiser's pic page for LOTS more 1999 Ouray RMR pics...
("Refresh" page if all pics do not come up - seems common with AOL.)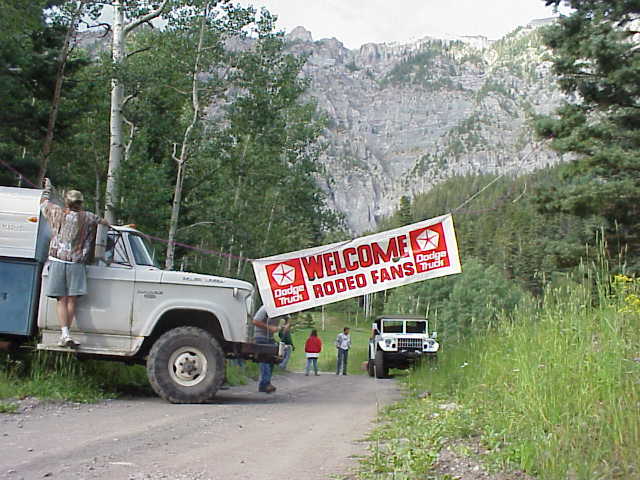 Entering "The Amphitheater", Rendezvous HQ & Camping...
(Don E. is on the running board, Sawyers are down the lane.)


Trail pics - click image for full screen pic, use "Back" button to return...




Ouray, 1927

Yankee Boy Basin

Bit of sunshine

Carl's hybrid

Weather changing

Above treeline...

Drew's M-37

Fred, Carl,
JB & Herb

Returning

Break time

Drew's M-37

Overhang

Carl & Herb
Thanks to the Texas Sawyers for ALL their Hospitality !!!

Engineer Pass

With Sawyers

Townies
Rule !!!

Lots of Mines


Right at treeline...


Free house !!!


JB, Pattie, Donnie&Chris

Almost stuck,
MPEG below

Ghost Town approach...

Ghost Town

Yet, another mine ruin...

Into the bowl...

Climbing, climbing

California Pass 12,930 ft.

Year-round
snow / ice

Donnie on Ice

Mineral rich...


Back to Camp
Before leaving Denver for Ouray, Fred invited us all over for breakfast. THANKS !!!

Gary, Chris, Lyle & Fred look at Gary's Townie.

Fred checking some technical aspect of the Townie...

Gary looking over Fred's recent purchase...

a very modified WC-53 Carryall.
Fred's house is an amazing museum of all things technical for Dodge & Jeep's. Quite a collection.

Downloadable MPEG's...


Some users (AOL) may need to right-click & "Save Target As...".
And special thanks to Richard Cranium for checking out the
"Glenwood Springs" PW & letting me sleep in style !!!

"Picture Effects" of the Sony Mavica digital camera...