Catering Info...
Yes, we do catering for parties, events, promotions...
We've served 700 burritos at one corporate event !!!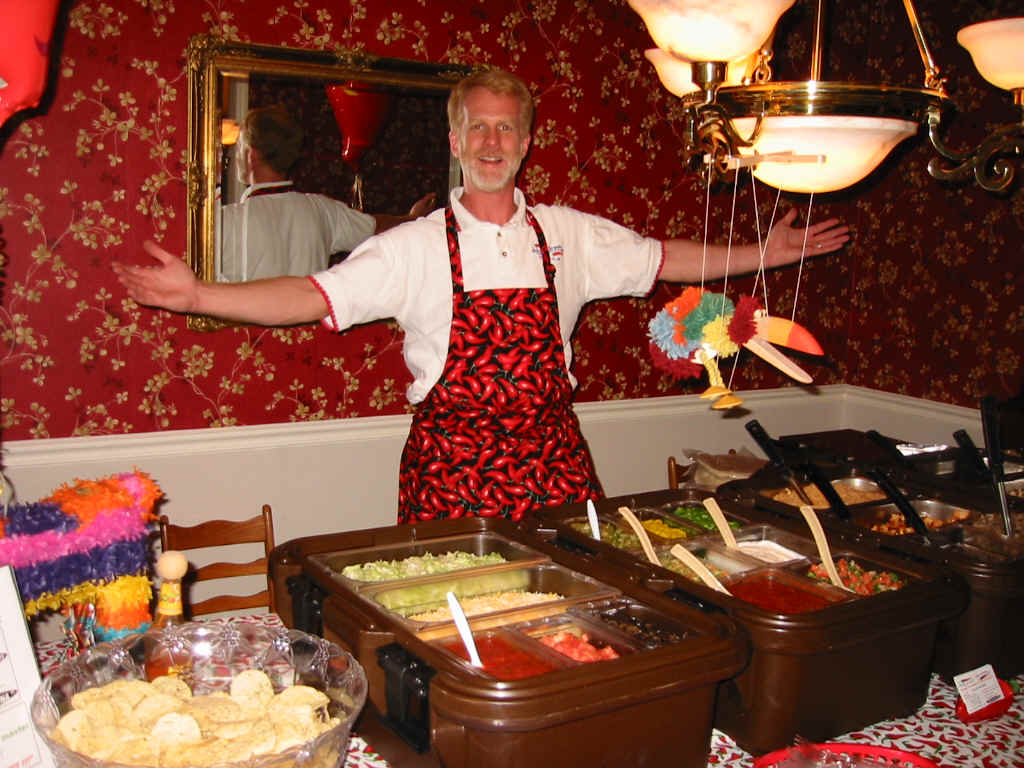 (Here's a FULL LINE setup to custom roll burritos at your site. Pic is service for 100.)
We can pre-roll burritos or roll on-site, anywhere.

We use all NSF (commercial) certified equipment for catering.



Description

All catering includes: Delivery, set-up & pick-up, if needed. Also, forks, plates, napkins & Chiclets gum. Decorations include chili pepper tablecloths & a piņata.
Meat & Veggie choices: Grilled Chicken, Firecracker Chicken, Grilled Steak & Picadillo (spicy ground beef). Vegetarian with sauted zucchini, yellow squash & mushrooms.

$12.01

Pre-rolled Burritos: We make up a variety of meat & vegetarian burritos with labels. Includes chips, mild, spicy & "El Diablo" salsas, pico de gallo, guacamole & sour cream.

$17.78

Custom Rolled Burritos (on-site): This set-up is the same as in the restaurant, just at your location. We bring a tortilla steamer (electrical outlet required) & all the fixings for a memorable Johnny Burrito experience anywhere you like.
Includes two servers.

$2.31

Drinks: A variety of Classic Bottled Sodas, Diet Drinks & Bottled Water.

$1.16

Desserts: A mix of Brownies, Rice Krispies Treats, Cracker Jacks & Moon Pies.
We Deliver to "The Green", Wells Fargo Learning Center, on a weekly basis.
Clients Include...
First Union / Wachovia / Wells Fargo Bank of America Duke Energy DeWalt NASCAR
Moore Van Allen Law Office Robinson Bradshaw & Hinson Law Office
Colliers Pickard Commercial Real Estate Xpedx
Carolina Neurological Art Guild of Charlotte
Pharmaceutical & Manufactures Reps American Red Cross
It's Just Lunch Dating Microsoft
Contact Johnny / Chris at JB in the Two Wells Fargo Building,
704-371-4448
As you may know, we get busy for lunch & will be rushed to talk with you,
so please call before 10:45 AM or after 1:30 PM.
Or just give us a business card / note when you are in line & we'll contact you after lunch.
Thank you !!!